Honeymoon Places to Visit
Welcome to IndianHoneymoonPackages.com !
A site focused on most Exotic and Romantic Getaways for Honeymoon.
Best Bali Honeymoon Resorts All Inclusive for Couples with Pictures
Best Bali Honeymoon Resorts All Inclusive for Couples with Pictures
Many couples now-a-days choosing Bali as their place for honeymoon. And the reasons are not really surprising as Bali has everything that can attract newly-weds from all corners of the globe. Its natural beauty and the great Bali's hotels and resorts make it a perfect place for romance. Cool and green tropical forests, or gentle breezes with memorable views from cliff tops make this island an ideal escape.
Now what we are going to read now is about the top Bali resorts all inclusive for couples. Read on for all about these affordable honeymoon villas in Bali that are not only luxurious, but extremely romantic too.
Why Bali is the Best Budget Destination for Couples?
Top Maldives Resorts and Hotels
How to Spend your Honeymoon in Alaska?
1. Nusa Dua Beach Hotel & Spa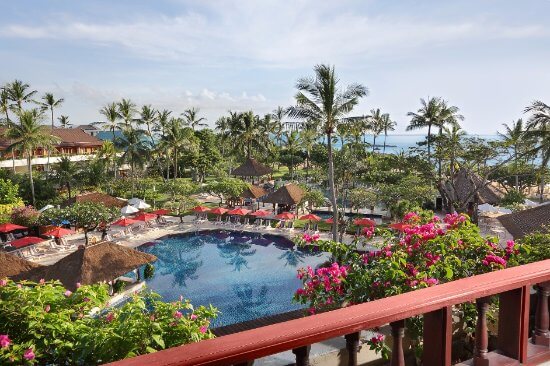 Set on Bali's southern peninsula, Nusa Dua Beach Hotel & Spa is a 25 minute drive from Bali's International Airport, Bali Ngurah Rai. Couples should participate in various excursions, to be engaged classical and water sports, to enjoy traditional Bali representations. The range of onsite facilities at the resort are excellent and include 24 hour room service, a range of bars & restaurants, a day spa, gym and fitness centre. An all inclusive Bali escape with excellent facilities, luxury accommodation and family-friendly options, Nusa Dua Beach Hotel & Spa welcomes you on your most memorable vacation.
2. Grand Mirage Resort & Thalasso Spa - Bali
Located on the glorious gold sands of Bali's most famous Nusa Dua beach, the Grand Mirage Resort & Thalasso Spa Bali is an all-inclusive, five-star resort that offers value for the newly-weds. Thalasso Bali welcomes its guests with five-star service and breathtaking views of the sparkling Indian Ocean. The hotel rooms are all designed in traditional Balinese style, with wooden flooring and furniture that accentuates a warm and homely feel. It caters to couples with a wide array of daily activities, free non-motorized water sports, a pool with a swim-up bar, and an excellent spa with a large hydrotherapy area.
3. Ayodya Resort Bali
One of the best all inclusive Bali resorts for honeymoon, Ayodya Resort Bali is a 5-star property presents all guests with a unique opportunity to experience truly enchanting Balinese hospitality. It is located along the white sands of Nusa Dua Beach. This resort is embellished with stone statues, fountains, and lagoon pools that exude the exotic grandeur of the island. Ayodya Resort Bali enjoys an extensive range of restaurants, bars, sports and leisure activities.
4. Wina Holiday Villa Resort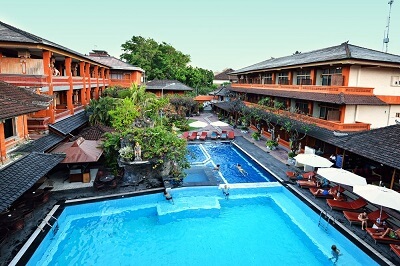 Wina Holiday Villa is perfectly set on the Kuta Beach Front area. Highlights at this property include 2 outdoor swimming pools, a full-service spa, and a restaurant. The property's own poolside bar and bar/lounge are nice places to enjoy a drink. Overall, Wina Holiday is very close to everything like Kuta beach, Legian and Seminyak, and is a good value for money.
5. Melia Bali
Located on the shores of Nusa Dua, this beachfront resort is a unique sanctuary of exotic beauty and comfort for those who seek a dream honeymoon. Couples can indulge themselves with a variety of relaxation amenities at YHI Spa, which features a beauty centre. Places to dine at the hotel include El Patio and Sateria Beachside Restaurant. There is also a selection of beverages to enjoy at the bar, which overlooks the beach.
6. Novotel Bali Benoa
Just a few steps away from the shimmering Tanjung Benoa Beach, one will cherish a tranquil, refreshing, and fun-filled stay at this luxurious all inclusive honeymoon resort in Bali. The resort offers you direct beach access,3 pools,3 restaurants and bars,fitness centre,spa , tennis court,water sport activities,business centre and free WiFi. It is one of the beautiful hotels in Bali with many contemporary facilities that ensure warm hospitality and a welcoming ambiance throughout your stay.
7. Club Med Bali
Located in Nusa Dua, Club Med Bali has a very unique concept that sets it apart from other resorts in Bali. Since Club Med is all inclusive honeymoon resort, food and beverages are also included in your package besides the amenities and activities. Serving you delicious and creative cuisines three times a day (sometimes more) at no extra charge, Club Med has two restaurants: The Agung Restaurant and The Deck, Gourmet Lounge.
8. Grand Whiz Hotel
Grand Whiz Hotel Nusa Dua Bali enjoys a private beach at Nusa Dua just 3 minutes' walk from the hotel. Aside from the quality services and warm hospitality the hotel has to offer, the elegance of interior and exterior designs at Grand Whiz Hotel becomes the magnet to attract couples to experience another world where the pleasure is incomparable. The hotel also provides a garden to relax in and in-house restaurant, a popular place to enjoy a meal.
9. InterContinental Bali Resort
Located on the pristine shores of Jimbaran Beach, InterContinental Bali Resort is one of the top choices among newly-weds. It is blessed with an endless stretch of white sandy beachfront as its stunning backdrop and the resort itself integrates ornamental ponds, a winding lagoon and aesthetic stonework which give it a pure Balinese feel. The resort provides excursions for couples who wish to get out and explore the beauty of Bali together for a single day.
10. The Samaya Ubud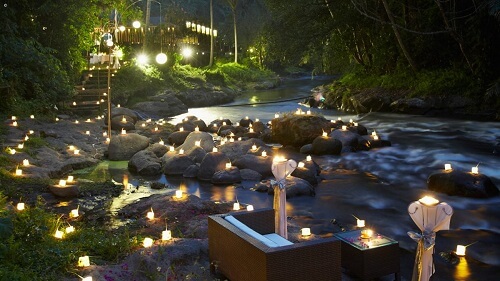 One of the best resorts in Bali for honeymoon is The Samaya Ubud, situated in Bali's Ayung valley, along the banks of the River Ayung. The rice paddy fields, the flowing stream and verdant hillsides- all these make this resort awe-inspiring. The ambiance at its restaurant here is perfect for anyone looking for a relaxed dining experience that is close to nature, and one of the best things about restaurant Swept Away is the sheer number of food choices on offer.
11. Mulia Villas
Situated just a few steps away from sugar-white sands of Nusa Dua, Mulia Villas are nestled among verdant tropical foliage, thus immersing you in a world of stunning natural beauty and serenity. There are a collection of ocean view rooms with top notch facilities and chic venues overlooking the breathtaking Geger Beach. Experience a relaxing retreat with lavish amenities at this amazing haven.
12. The Legian Bali
Situated along the beach strip of Seminyak, The Legian Bali is fronting a huge expanse of beach and adjacent to the island's best fine dining. It is an all suite hotel with a very romantic and luxurious feel. The resort offers not only premium location but also stunningly breathtaking surrounding with stretch of golden sand beach, swaying coconut palms, stunning sunsets and sea facing suites that merge seamlessly with the surrounding natural beauties. The hotel's spa is a sanctuary of wellness.
13. Viceroy Bali
The Viceroy Bali is a relaxed but exclusive ultra-luxury hotel nestled in spectacular unspoiled countryside with unrivalled valley views, yet just a few minutes from the artist's village of Ubud in the mountain foothills of Bali. Providing honeymooners and couples a quaint escape far away from the crowds, this luxurious resort also provides romantic flying tour options to see the beauty of Bali with its dramatic volcanoes and sweeping coastlines. Its Cascades Restaurant lies directly next to the main pool under a thatched ceiling with a stunning view in the green valley. It is one of the romantic dining destinations on the island as well.