Honeymoon Places to Visit
Welcome to IndianHoneymoonPackages.com !
A site focused on most Exotic and Romantic Getaways for Honeymoon.
Best Hotels & Resorts in Mauritius for Honeymoon (from Budget to Luxurious)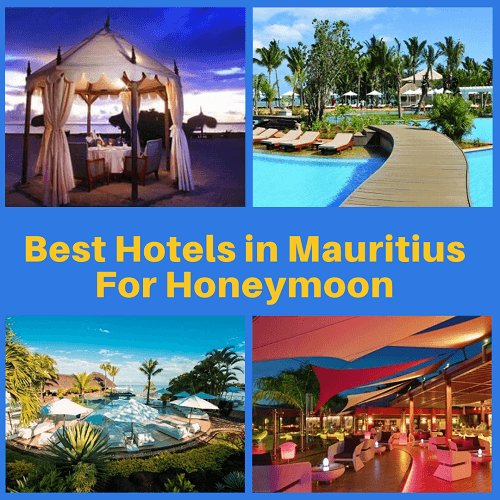 Mauritius is a very romantic honeymoon spot for newly-weds from all over the world. The beauty of Mauritius insists couples spend the most awaited time of their life here. An island offering the best of out of the Indian ocean, from its lush green plains, lofty rich mountains, beautiful sandy shoreline, to its turquoise water beaches.
You have so many dreams for your honeymoon trip. You might be expecting welcome sparkling wine, private candlelit dinner, special discounted spa treatments, personalized services and many more. So obviously your honeymoon hotel in Mauritius must be good and satisfy your needs. To provide you a luxury to budget -based hotels and resorts in Mauritius here is our list of top 10 most romantic hotels in Mauritius for a honeymoon.
Top Things to do in Mauritius during Honeymoon
Top Maldives Resorts and Hotels
Bali All Inclusive Honeymoon Resorts
Cheap Honeymoon Destinations Outside India
1. Casuarina Resort & Spa
Situated by the ocean, this spa hotel is within 1 mile (2 km) of Mont Choisy Beach and Trou aux Biches Beach. Casuarina Resort & Spa is a perfect location for couples to experience one of the memorable holidays with their life partner in peaceful surroundings. The Casuarina offers a wide range of activities such as kayaking, snorkeling and wind surfing. This beautiful Mauritius honeymoon resort has 94 rooms and 15 bungalows that are beautifully and exclusively furnished. Here, health, enjoyment, nature, and regeneration complement each other, and offer a unique and unforgettable experience.
2. Maritim Resort & Spa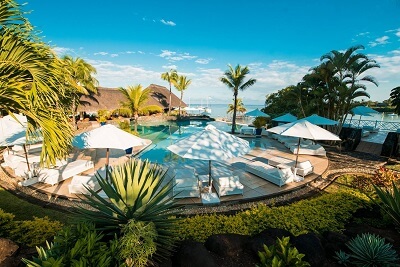 Maritim Resort & Spa is 20 minutes by road from Port Louis and Grand Baie, and offers some of the best experiences. This luxurious Mauritius resort for couples offers world-class accommodation with 212 luxurious rooms and suites, as well as an exclusive villa, all sea-facing and elegantly designed. Your honeymoon vacation will benefit from an infinite range of land and water sports offered including horse riding, golf, archery, water skiing, diving and many more! Also, the colonial-style restaurant offers views of the Citron River.
3. Sugar Beach Hotel & Resort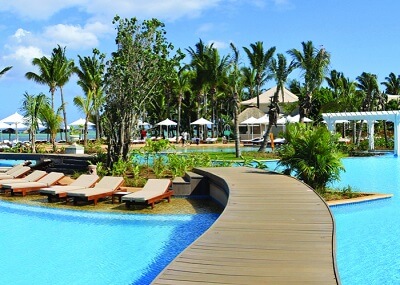 The Sugar Beach resort is a five-star hotel built on a white sandy beach on the west coast of Mauritius. Its contemporary plantation-style architecture reminds of a colonial mansion with exotic Creole charm. An array of entertaining options includes tennis courts, a fitness centre to keep revitalised, and there are fantastic opportunities for water sports including exploring the coral reef with scuba diving, at a charge. There are four exciting restaurants and five bars that feature innovative and tasty cuisine as well as your favorite libations.
4. Calodyne Sur Mer Resort
Calodyne Sur Mer Resort and Spa is nestled in the northeast of the paradise island of Mauritius. Whether you're exploring this budget Mauritius resort with your partner or with anyone, their rooms have a spacious layout and give a cozy space for you to rest. Calodyne is a resort that invites you to sip on the tranquility of our exceptional place. The good thing about this property is it is very welcoming and accommodating. Clean rooms, friendly staff, peace & tranquility, everything you can get at a very reasonable rate.
5. The Oberoi
Located a comfortable fifteen kilometres from the capital, Port Louis, The Oberoi, Mauritius is unique amongst luxury best hotels in Mauritius for honeymoon. Surrounded by beautifully landscaped gardens and pristine beach, it provides perfect setting for a luxurious stay. Also, it houses 4 national monuments of French colonial era. The Oberoi Mauritius has 4 bars and restaurants offer a great gastronomic and dining experience with gorgeous views of the sea. It features some complementary activities, designed to refresh and rejuvenate the mind, body and soul including breathing techniques, sculpture classes, jogging, nature walks and much more.
6. Maradiva Villas Resort & Spa
An hour from the international airport, Maradiva Villas Resort overlooks the turquoise blue waters of Tamarin Bay. This five-star luxury resort is a privately owned all-villa resort, designed for those couples seeking a discreetly luxurious, ultimately private, personalized Mauritian experience. Cocooned in one of the sixty-five villas nestled in the lush gardens along the coastline, with a view of the ocean or the garden, couples will enjoy the privacy at their individual pool. Nobody can actually look into any villa or its open areas.
7. Shanti Maurice
The Shanti Maurice is considered by many as one of the best resorts in Mauritius for honeymoon. It is a boutique lifestyle resort with an award-winning spa located along one of the best beaches in Mauritius, on the largely untouched south coast of Mauritius near the small town of St Felix. Relish exquisitely prepared Aquac Asian Cuisine prepared with the freshest ingredients and finest flavours, against the setting of a Starlit Indian Ocean.
8. Four Seasons Resort
Surrounded by the tropical lush gardens and the crystalline waters of the Indian Ocean, four seasons resort is a romantic resort offering breathtaking views to couples from all over the world. From here, guests can make the most of all that the lively city has to offer. Located on a private island and three secluded beaches, this property offers easy access to the city's must-see destinations. Four Seasons Resort Mauritius at Anahita is both a haven of tranquillity and a gateway to all the wonders of Mauritius.
9. Seapoint Boutique Hotel
Located on the Northern Tip of Mauritius, the Seapoint Boutique Hotel in Pointe aux Canonniers is cosy and luxurious. The hotel brings along charm, intimacy and refinement which will give you a glimpse of the beauty of Mauritius. A chic, modern, beach-house design continues the relaxed, beach feel with everything based around the beachfront pool. Enjoy a delicious breakfast by the pool and impress your taste buds with some mouth-watering meal under the starry sky. Indulge in body massage, facial treatments and body care with your partner at their exotic spa rooms.
10. Hennessy Park Hotel
Situated in the heart of the bustling Ebene Cyber City of Mauritius, Hennessy Park Hotel offers exciting options to stay close to the vibrant and lively city areas, pubs and shopping malls. To start the day, couples are able to enjoy breakfast at Hennessy Park's on-site eateries, then later experience Mediterranean dishes at Grain d'SEL or Japanese cuisine at SushiMe.